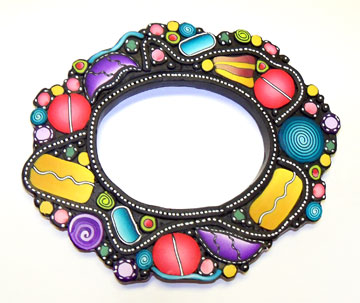 I've been creating new fun but easy canes for my newest cane/bracelet workshop I'm teaching at Beads F.O.B. in Sarasota this weekend. Many of the students have taken a cane class from me before and I wanted to add new, to them anyway, canes and just gereral tips on working with polymer clay. I've had a good time, added considerably to my stock of canes and am packing the car right after this.
My problem is, I get distracted by all the other ideas that come into my head. The bracelet above contains simple yet vibrantly colored canes and I just couldn't help myself, I had to make this outrageously (choose one of these dictionary definitions……..1. shockingly bad or excessive  2.  very bold, unusual, and startling.) fun to wear bracelet.
Naturally, each people can choose their own colors and don't have to be crazy, so I think we'll have fun. I have flower canes and several more complicated canes to share as well. There is still room for a couple more people in this class, we have a large space, so if you're in the area, come join us.
Oh and I'll be showing the Stroppel cane too. But some of these woman were the first ones I showed it too but it's grown just a bit since then.
I also got some dies and the new book from Tracy Holmes and Dan Cormier right after Christmas.  I have some ideas that I want to try out, but haven't had time, so my thoughts drifted in that direction for a few minutes. Then the idea of translucent clay being colored and looking like sea glass caught my eye on Polymer Clay Daily, my brain began drifting again. This conversation started on FB as a result, ( I tried to link directly to the conversation but couldn't figure that one out. So here's the link to my page, you'll have to scroll down about half way on the lefthand side.) While you're there, friend me. lol.
So many patterns and colors on Pintest now that it has my mind jumping all over the place. I have a sculpting workshop here next month and I'm very excited about a couple of ideas I want to add to the workshop, but I have had to keep those ideas simmering until after the workshop this weekend.
Plus….information from artists is starting to pour in for Suzanne Ivestor's and my new magazine Polymer Portfolio. The work is amazing, the artists sterling and well, the whole project is exciting.
So I'm starting off the new year with a full plate and very excited to be so actively involved in this wonderful world of polymer clay, thanks to you all.