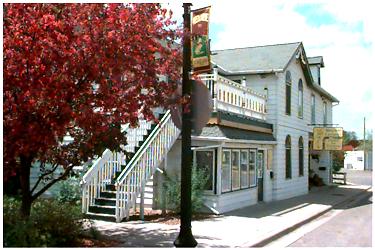 Come over ….or up …….or down to Maureen Carlson's Center for Creative Arts in Jordan, MN. Join me at Maureen's for three full days of fun filled classes, take one class or all three, spend the night or just come for the day.
Check out the dormitory rooms at the Center. How could we not have fun? Just like at school except everything you do here is fun, even the homework. Watch this video and see how peaceful it is at Maureen's.
Isn't this the coolest thing you can think of to actually own? Your very own shop where you have a fabulous studio to create in, you can teach classes and week long workshops, have guest instructors visit and on top of that students get to sleep upstairs. Slumber party!! Retreat time for sure.
Well this is exactly what Maureen Carlson has and I'm lucky enough to be a guest instructor on September 21 – 23 2012. I'll tell you more about the three classes I'm going to teach in a minute.
I have been a fan of Maureen and her work for years. One of the first polymer clay books I bought was her book Family and Friends in Polymer Clay.  Then I watched her on the Carol Duval show and loved her more.
When I finally was able to concentrate on polymer clay alone, I started two blogs, this one and The Figurative Artbeat. Maureen was kind enough to allow me to do an post on her and her fabulous work. It was the first time I actually contacted Maureen and then we met at Fandango that year were she was demonstrating her new face bead molds, she is just as fun and warm and inspiring in person. We've been friends ever since.
I've have wanted to visit her Center for Creative Arts for years, so this year is it. If you're a fan of Maureen's and want to experience the fun of her center, come on and explore it with me, we'll have the best time, I know we will. Plus I'll be sharing some of my favorite techniques, tips and ideas with you.
Now… I'll be teaching three of my favorite things. Profile Face Canes, Cane Mapping/Contouring, and Pen and Ink. Each class is filled with as much information as I can fit into one day. August 21st is the reserve – by date for all three classes so be sure to follow the links below and let Maureen know you want a reservation.
Sept. 21 – The Profile Face Cane – reserve your spot here
Making this profile cane is surprisingly easy and we'll spend some time making hair canes too. We can make bracelets, pins, or slides. I promise you we'll giggle. Plus you'll get a pdf file and a video link for later reference.
You can make pins from your face canes, put them on vessels or glass vases.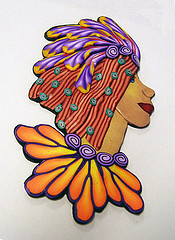 Or a cocktail shaker, how funny is that. Here's three side of the same shaker.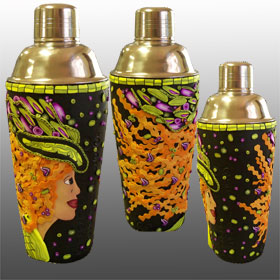 Sept. 22 – Cane Mapping/Contouring – reserve your place here
This class is super fun and so far everyone that has taken this class with me has produced some wonderful pieces and had many "ah ha" moments. It's a class about opening your mind to the possibilities that await you with all those canes you love to make.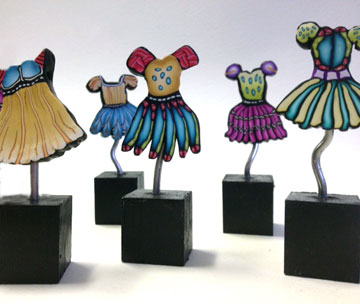 These fairy dresses were made using my cane mapping technique, so was the design on the necklace below. Tracery tied for second place with the judges and won first place members choice in the IPCA's Progress and Possibilities 2011. I'll even show you how to display some of your work when you're not wearing it. The fairy dresses above are actually pendants.
As you can see it's a technique that can be used in many ways, big and small. Be sure to bring lots of your old canes, plus we can make some new ones.
Sept 23 – Pen and Ink on Polymer Clay – reserve you table here – With this class you'll receive a pdf of face patterns and a link to a video for future reference.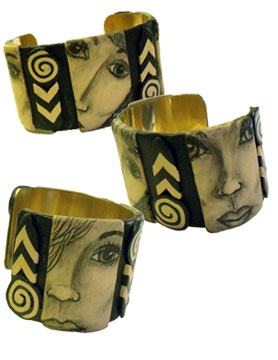 Now this class is a blast. Again…you can use this technique on polymer clay bracelets, pendants, buttons, plaques, canvas, or whatever you can think of.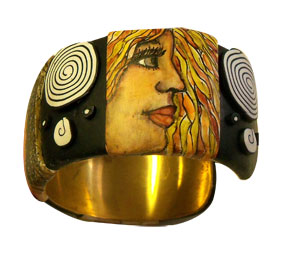 You can use just black and white or you can go full color. You don't have to do a face, you can do simple graphics and produce fabulous pieces.
I created this cat and mouse pendant for a friends, fun I think.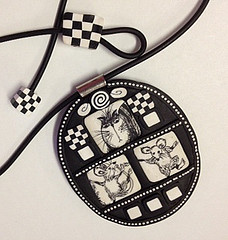 This one is a favorite too. I'll demonstrate how to construct these windows for your drawings and how to cover a bracelet.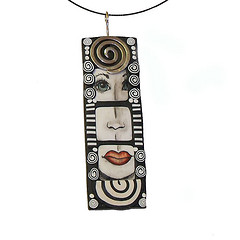 There are endless ways to use this pen and ink technique, your imagination will run wild. And you won't be able to leave until we've all made a Stroppel Cane.
So do not delay, Maureen and I would love to see you there.  Reserve-by date of August 21st.