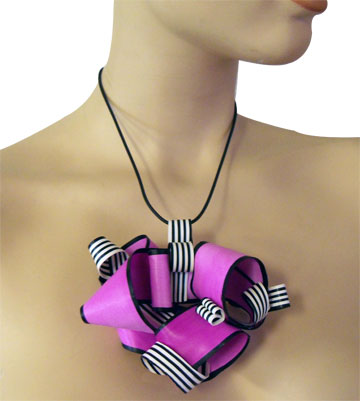 Here's another idea I've had in the back of my mind. I just ordered the new Lark 500 Paper Objects and was inspired by Lydia Hirte's incredible work. She creates some fabulous Jewelry sculptures with paper.
I wanted see if I could do something similar in polymer clay. I really want to do a large scale piece for the wall using these thin pieces, but first I was experimenting to see how thin I could get the clay and what I could make it do. I used Premo and it really is amazing to work with. It bends and doesn't crack at all.
This piece is incredibly light and it's been so much fun to play with. It's very bright I know and I'm not really a pink girl, but this certainly says, "Here I Am!" It  would stand out on black for sure.
I've just spent a ton of money on quite a few frames and have way too many ideas. I'm already working on a giant 27 x 39 piece that I'm very excited about and will tell you more later. Let's see which project wins out.