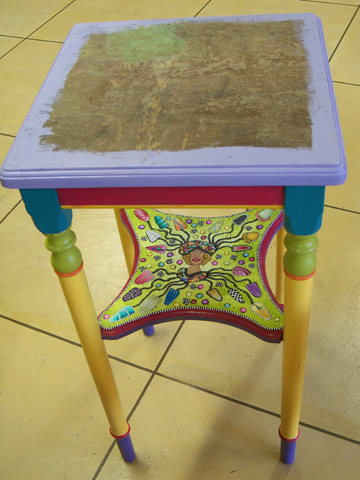 This is a silly little table that my husband and I used as a telephone table when we were first married. Most of you can relate to a telephone table, but some of you may not remember a time when you had an actual phone connected to the wall.
We had a cord that could reach all the way into the living room. That was the only way you could talk for more than 5 minutes, I could cook, fold clothes, and watch the kids playing.
When we moved to our new house we didn't need the table anymore. My Mother, Father, sister and brother-in-law bought a three story victorian house together and they had tons of room. The table went to stay with them and now it's come back to live with me.
I've painted it lots of fun colors and have covered the bottom shelf in polymer clay with one of my faces and some of my colorful canes.  I'm starting to work on the top when I have time and I'll also be adding bits of PC on the legs.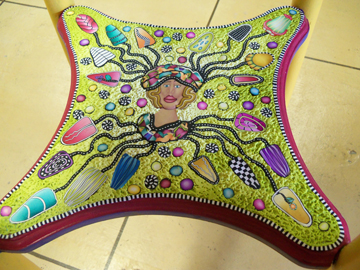 It's a piece that has been touched by every member of my family at one time or the other. No hurry on this piece it's just something that will capture a lovely memory in time and link it to the present.