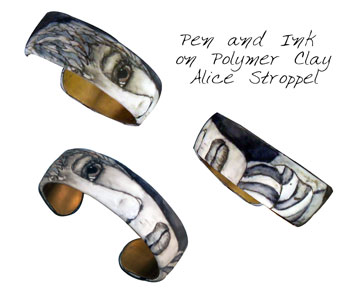 I really enjoy creating pen and ink faces on white polymer clay covered bracelets. I've drawn many and continue to strive to improve. This is different views of the same bracelet.
I'm teaching Pen and Ink on Polymer Clay on Jan. 10th at McKilliams Promotions in Oddessa, FL. That's just north of Tampa.
For more information visit McKilliams Promotions, Inc. Hope to see you there.
While I was away from my studio for a few months, I practiced drawing faces using pen and ink. Here's one I did using a Vogue cover from the 50's. I've always loved this picture and it was a perfect one for me to try and recreate. I'm happy with it except the face doesn't look like the model at all.
I don't think I'll ever be able to do a likeness, but that's okay I'm happy just drawing imaginary faces.  Practice, practice, practice…..it'a all fun!