New Items for sale in my Etsy Shop!
I finished the bib necklace and made a bracelet to go with it. The colors were fun to create and I loved making the canes. I really enjoyed figuring out how to make the bib part too. I used the largest round pastry cutter from a set I purchased from a restaurant supply house in Tampa. Cut the bottom, then moved the cutter up and cut the inside curve.
I think I'll make a short video next week or if I have time this week, I'll try to fit it in.
I have to laugh at myself because a have suddenly gotten very busy, both with polymer, and personal. Maybe it's just that the summer is over and things always seem to move faster then. Whatever it is, I'm not complaining, I'm having a great time.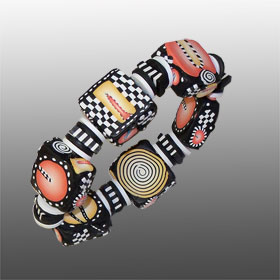 I have to tell you that Friends on Facebook have been so complimentary about the bib necklace. It's really great to get such feed back. I wish it were here…. but Facebook make it so easy and everyone is there. So it works well and it helps to get super encouragement from other clayers. Thanks guys.
Well I'm off to get my clay conditioned for my Profile Face Cane class with Orlando Area Polymer Clay Guild. Can't wait, they are so much fun.