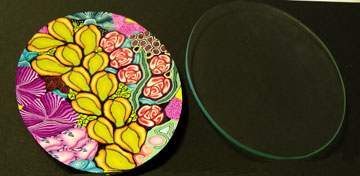 I was so happy to find this glass company, Behrenberg Glass, because they sell plates without a "foot" on them. Making them perfect for decoupage or glass paint or ……….. polymer clay mosaics like my fish in video that you get when you sign up for my newsletter.
As you can see, I didn't use a fish mosaic, but something I started a couple of months ago, using up old cane. I just couldn't wait to make something new, I wanted to see how this would work……NOW!
So here you see the mosaic after I've baked it and popped the plate off. The great part about this is now I can use it without the plate, or if I want to be able to put food on it I can glue it to the back of the glass. Cool!
After I transferred the design to the back side of the plate and molded it to fit, I trimmed it and backed it with another thick layer of clay before I baked it.
I still have lots of playing around with this idea before I finished, I'll share with you what I learn. If you make something this way, please share your pictures.
Stay warm and dry everyone,
Alice