Today in the mail…..or UPS I received a package with my illustration made into a card. I'm excited. What fun this is. I've listed them in my Etsy Shop. You can buy them one at a time or in groups.
While I was waiting for the cards to come, I started playing around with some paper bags I had and painted some girls to add to my Etsy Shop too.
So I decided to include this bag with 4 of the cards. Fun! I made so many bags, I was having the best time. So now I'm adding single bags as well in my shop.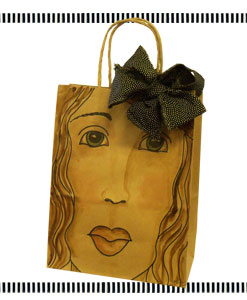 Plus, I had a girlfriend magnet printed as well, what a funny little something to give to a co-worker, sister or best friends.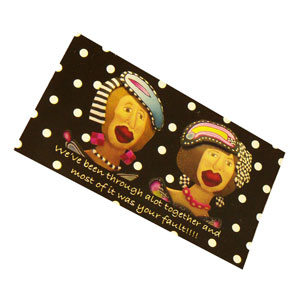 I've been busy, but "The Big T " is coming and I'll be gone for days before so this year I'm leaving it up to my husband and the kids, I'll be home in time to eat. (first year I've ever done this, but a girlfriends get away is calling………and I just can't help it……..
P.S. my "kids" are grown ups……and coming home for the holidays. I read this post again and it sounded like I was leaving my little kids to fend for themselves, so I thought I'd clear that up for those that don't know me.