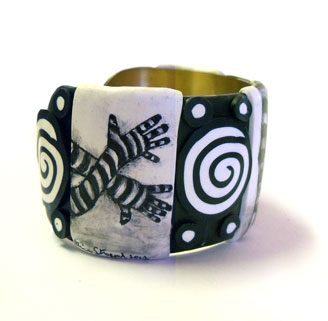 Okay just a quick post this morning, here's the rest of the legs bracelet. I know, I know, these are arms……….but you can see that they go together can't you? You can see the other side of the bracelet in this post.
Sometimes when I take a picture of an item, I can see the mistakes better than when I'm looking directly at it.  I need to correct the proportions on these arms and hands. Last night they looked pretty good, but this morning by light of day and the camera lens, I can see the mistakes. I'm still learning here too, I haven't alway been bold enough to put my drawings out there, but have gotten over pleasing anyone but myself.
I draw directly on the baked clay, I don't transfer a drawing. It would probably work better if I did, but I'm impatient and usually don't do something twice. So I have to put it down and come back to give it a second look before I finish it up. This is a perfect example.
It's just one of the things I'll show you how to do in my Pen and Ink classes.
I'll work on this again try to correct what I see wrong and repost it. You  can't learn if you don't try.