I have way too many ideas, i just can't  get to them all fast enough. I laid out a wall piece for my older son Brad who is a Master Scuba instructor. It's lots of my funky fish and I can't wait to get started on it.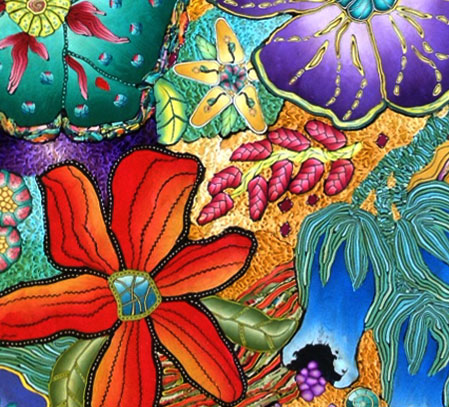 But before that I really wanted to try something new. After I posted my first large wall piece, Wall Flowers, almost everyone that saw it in person commented on the texture in-between the flowers. When more than one person mentions something, I usually pay attention. I called it stippling for lack of a better word and stipple actually describes pretty well.
I wanted to use the artistic cutout filter in Photoshop to change a photo to a graphic picture so I could stipple it in either shades of gray or monochromatic. I decided on shades of gray. So here's the beginning and I thought I'd share it with you.
This one isn't as large as the first one, I need to get to Tampa to buy new frames, it's only 12″ x 16″. But this will work out just fine in case it isn't a keeper.
To get the photo large enough, I imported into Illustrator, enlarged it and then tiled it to print. I taped it together and then taped it to the back of the glass from the frame I'm going to use.
I'm hoping that when the picture gets completely covered that it will looks like a person….check back, I'll post more as I get it finished. I promise…even if it isn't what I expect. Trust me, I'm having way too much fun to care and besides, polymer clay is not precious, there's more where this came from.