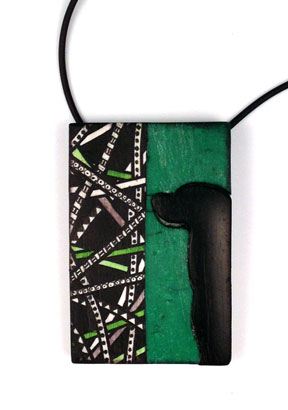 Synergy was wonderful for many reasons, but getting to meet in person people you have become friends with online has to be one of the highlights.
My friend Nikolina Otrzan (Orson's World) surprised me with with this so very thoughtful gift in memory of Ceasar, the oh so sweet dog we just lost. I was touched and so appreciative. Thank you Nik.
Nik creates some fabulous polymer pieces and some very cool tutorials for sale in her Etsy shop. She also has a class on CraftArtEdu
She is such fun to be around, meeting her after month and months of online friendship was a such a treat. She traveled all the way from Croatia to attend Synergy and I hope to see her again when Synergy happens in Europe.
I'm lucky to own another piece of Nik's work, we traded when she made me something from one of her Stroppel Canes. Love it.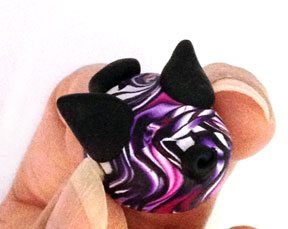 Cara Jane Hayman is another friend from the other side… she surprised me with the darling little Stroppel Cane piggy. It was so thoughtful to bring it all the way from Bristol, UK  just for me. Cara Jane started the Stroppel Cane Flickr group so that everyone can share their canes.  Care Jane also has tutorial for sale. Thanks so much Care Jane.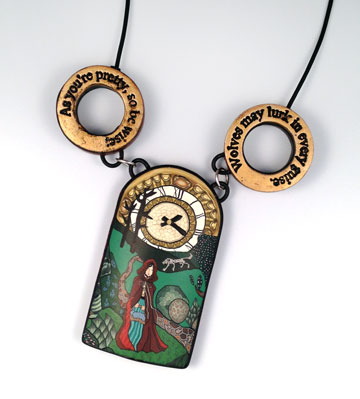 Can you believe I am the proud owner of this fabulous piece of a art by Julie Eakes? Julie's work in impeccable! We made a large trade and I am more than thrilled.
The wording is, "As you're pretty, so be wise, Wolves may lurk in every guise." I wish you could see this piece up close, I think Julie said she made at least five canes to incorporate in this necklace. Julie and I have traded before I'm lucky to own a couple of other Julie Eakes creations.
Julie teaches and if you can take a class with her, you should! Here's one on CraftArtEdu
Julie is soooo much fun and I'm lucky to call her friend…….Julie, I can't thank you enough.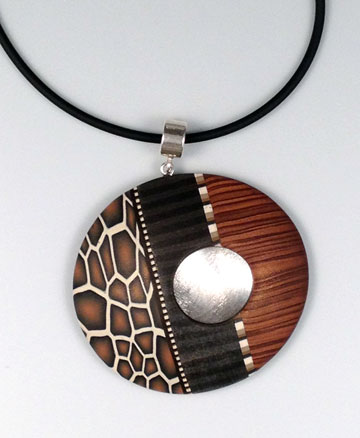 And finally, Meisha Barbee and  I traded pieces and look what I got, a wowzer.  Meisha doesn't have a website, but I have a feeling that she will soon, In the meantime here is a google search with some pictures of her fabulous work.
Meisha has recently started to teach, if she's teaching near you, run don't walk to take her class.
Meisha, you make me laugh way too much, you rock friend, thank you.
You see how lucky I am, not only to own such wonderful work, but to have made such wonderful friends through my love of polymer. It's a wonderful life.