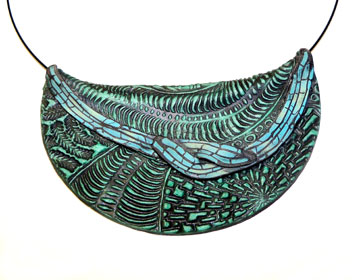 A friend is having a birthday this month and several of us met for dinner and had a great time. This friend has so many of my "girls" in every form I've ever made so I thought it was time I'd make her something totally different.
I made this neckpiece for my birthday friend using one of Helen Breil's texture sheets and a piece of Stroppel cane. The funny thing is the colors blended so well in person, you couldn't see the blue tones in the cane as much as you can in this photo. I still like it, it's interesting and different and hope my friend likes it too.
I've had the texture sheet for several months, I bought it at a retreat where I met Helen for the first time. What a talented lady, just take a look at her fabulous work.
I was lucky to be in a slide swap with Helen and this is the very cool slide I received.
The back side of my piece is fun too because of the great texture from the sheets.