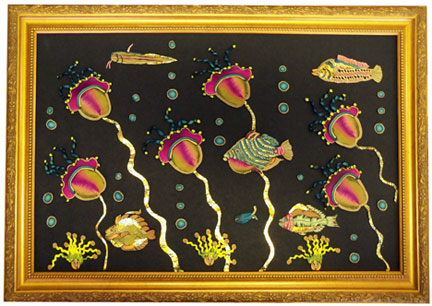 This is kind of my finished fish piece. Kind of…..I'm still playing with it and not sure I like everything about it and might do something different with the flower stems. The metal leaf was left over from the fish and I thought I try it as stems. It wasn't what I had in mind and I'm not sure I won't try my original idea after all.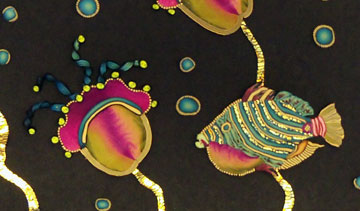 I haven't glued the pieces down yet, I had a black background in mind, but now I'm not so sure. I don't want to try to do the background in polymer, so if I want a different background I have to think of something else. I'm not much of a painter, but I'm thinking of painting a lighter background on board. Plus I'm still arranging and rearranging each piece and wondering if I need more fish.
I might have to let this percolate for awhile, but hopefully not too long. I like to finish projects and get them either out the door on the way to a new home, or among my many polymer clay keepers.
Anyway, it was fun and if nothing else I've added metal foils to my cane mapping techniques and I'm ready to see what else I can do with it besides fish………love fish but……. well you understand I'm sure.