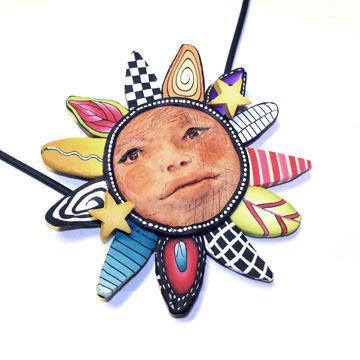 Sometimes things appear when you aren't expecting them. Well, I guess that isn't entirely true. I wanted to create something new to teach that could incorporate several skills and still have my love of whimsey and pops of color. So I was kind of hoping something would come to me.
I've been busy getting ready for my trip to GA to teach at  Creative Journey Studios and to have a few things to add to my inventory there when this sunshine piece popped into my mind. I worked on another sun a couple of weeks ago and had thought about teaching that, but it's complicated and I wanted something I could teach in a day.
The closure on this necklace was a bonus thought that came to me. I was impressed with the closure that Melaine West came up with using magnets. I was having trouble with the closure on my appleman and Jan Montarsi aka Jembox, suggested I use magnets. I haven't gotten around to playing with them yet and was happy to be able to share in Melaine's solution on how to use the magnets. She has saved me hours of testing and I think it is so generous of her to share her method. Thanks Melaine, your work is simply stunning.
I thought I might use Melaine's idea somehow in this necklace that I envisioned, but I hadn't ordered any magnets so another idea pushed that one right out of my head.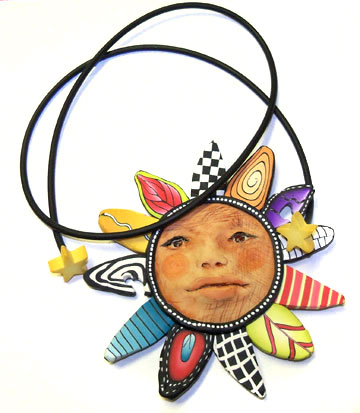 Here's my answer when you don't have magnets, not as sophisticated as Melaine's but this is a different kind of necklace……. cut a channel for your necklace cord to slide into, drill a hole in the back of a small accent piece made from pc and glue in your cord. Easy!
Now, I'd love to teach this class for your guild or group. Complete with a bit of easy to master sculpting… yes you can…..some fun cane work…teaching you to jump out of that box…….(I'll be working on some new and different canes to include) plus some contouring work. I had so much fun making it that I know it will be a fun class.
Anyway, I'm happy with this guy and wanted to share my new closure with you and show you a bit about how my crazy mind works…jumping from one thing to the next until something just has to spill out.
How one project can lead to another and other artists can spark an idea that ends with an finished product that is my own is an amazing thing and something I hope I never stop doing.
I gather inspiration from everyone and everything, I hope you do too.