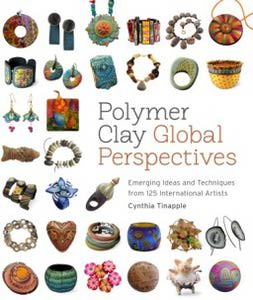 Cynthia Tinapple's new book, Polymer Clay Global Perspectives arrived at my home yesterday, exciting news, the problem was, I wasn't home. But thanks to Linda Mosley's post  I saw that I could download it to my ipad. So while I was visiting my mother, I was able to take a look at the book and my place in it right away.
It's a beautiful book, but what makes it special for me is that so many of the artists I know personally, many of them are my friends, I consider myself so lucky to have had the opportunity to become apart of this fascinating polymer clay world and to share a small part of the stage with such talented people.  And it is such a world wide stage thanks to the internet.
I am amazed to be including at the beginning of this book along with Meisha Barbee, Donna Kato, Maureen Carlson, Gwen Gibson and Bettina Welker. To have my name listed in on the same pages as these ladies, as well as other well known names, is a dream.  My Stroppel Cane has truly become a part of the history of polymer clay and it's incredibly exciting.
Cynthia takes a closer look at 13 artists and each of them share a project with you. You'll be tempted to put the book down and get started right away creating your own version of each project. I enjoy ed getting to know the artists I haven't met and felt even closer to the ones I consider friends.
One of my Stroppel Sweater Girls is pictured as well, right on a page with some of my favorite people. I can't ask for more. in all over 125 artists are included in this global look at polymer clay today.
So this is another special publication for me, but I'll be willing to bet you'd love it too. You can take a quick peak at some of the pages on Amazon and of course place your order there as well.