I just wanted to take a minute to celebrate with Cynthia Tinapple. Today marks her 2,000 post on Polymer Clay Daily. Cynthia has created a window into the studios of polymer artists from around the world, introducing us to work we might not have ever found on our own.
We've been inspired and entertained by, in awe of, and delighted to be introduced to the artists Cynthia has shined a light on. PCD is an important stop in most polymer artists' day.
I am most impressed by Cynthia's continuing support of the women of Nepal and their quest for individual freedom and expression. She shared her polymer clay Shisha technique with the women of Samunnat on a visit to Nepal.
You can see her Shisha necklace in the picture below and you can order your own Shisha bracelets made by the ladies here in their Sumunnat Shop on Etsy.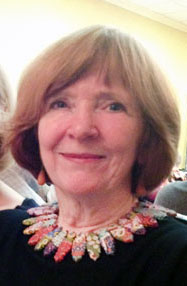 Recently, Cynthia, Wendy Moore and Ron Lehecky have succeeded in helping to fund a building project for the women of Sumunnat. And there is still time to donate and I hope you do. Here's a link to learn more about this worthwhile project.
I also want to congratulate Cynthia on her new Book Polymer Clay Global Perspectives: Emerging Ideas and Techniques from 125 International Artists. It is sure to be an exciting book to own.  I'm thrilled to be a part of such a wonderful group of artists.
Thanks you Cynthia for the enjoyment you bring to so many!