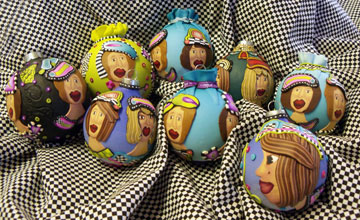 I've been on a roll, covering these ornaments and creating these girlfriend ornaments. By using different skinner blends for backgrounds I'm not using traditional Christmas colors for a reason. I want these ornaments to be able to be viewed and displayed at other times of the year too.
We all have one of those ornament stands that will display one special ornament. Well why not add one of those to a polymer clay ornament that has a special message for the recipient. I did a google search and found them for 2.50 and up.
Order an ornament from my Etsy Shop (adding a couple by the end of the day today) or create one yourself. But get started, Christmas is just around the corner.