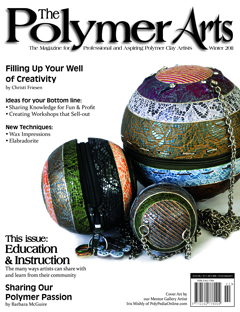 The second issue of The Polymer Arts has arrived, at least the digital addition landed in my email box the other day, and I'm pleased to tell you I was one of the featured artist. Iris Mishly, Laurel Steven and Christa McKibbens are featured as well. Many thanks to Sage Bray for the opportunity.
I review the first issue in August and this post is not because I have a small part in this issue but because I know you'll find things in the issue you might relate to in a big way, at least I did.
It's a very timely thought filled edition with excellent articles from Christi Friesen, Barbara McGuire, and the Editor-in-Chief Sage Bray. I enjoyed every page of this issue and I suggest that you will too.
There is a great article about the IPCA's 2011 retreat as experienced by a new attendee, Susan O'Neill that you don't want to miss if you're thinking about attending next time.
Also congratulations to my friend Patrice Pfeiffer for her Inspiration Challenge win.
You can order a yearly subscription to this magazine or just one issue at a time by visiting The Polymer Arts website. You can order it delivered to your door or to your email account. The digital version comes to you in a pdf or in a fun flip magazine format. You'll love it either way.