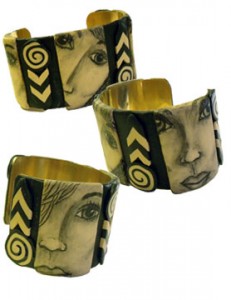 I have been home from Georgia and Creative Journey Studios a little over a week and it truly seems like only a day or two. I am busy getting ready for Orlando Clay Fandango this week and decide to try pen and ink on ecru clay and boy do I really like it. I love the black and white, but this is new and different.
I'll be demo-ing pen and ink on polymer clay, my Stroppel Cane, and how to cover a bracelet blank.
I'll be posting more about my trip to GA when I get back and I know I'll have great things to share about Fandango too. I have a wonderful interview with Ellen Prophater from Creative Journey Studios to share with you, plus lots of wonderful pictures of the Gallery and my classes.
This year I won't forget my camera when I go to Fandango. Last year I left it by the back door. and was so dissappointed that I didn't get to film the instructors and the Fandango Committee. The exciting thing is  this year I don't need a giant camera bag, cords, charger etc. because I have a new little video camera with a USB connection built in. It fits in my pocket. Amazing!
Hope to see you at Fandango in 3…2….1…days.
Speaking of The Stroppel Cane…………
Sage Bray from The Polymer Arts asked me to write an article about the Stroppel Cane for the spring issue. I did and I was excited to see my name on the front cover along with the gorgeous photo of a Heather Campbell creation.
Haven't read an issue yet try a sample.
Sample Issues of The Polymer Arts magazine … for the polymer clay artist
See you again soon….