Extruder Bootcamp
Mari O'Dell
Seed Pod and Tassel Blossom earrings
Overcoming the "Fear of Flying" or
How a tool saved my creative life and what it can do for you !
2 day Workshop  – March 28th and 29th 2015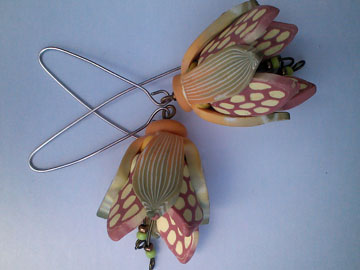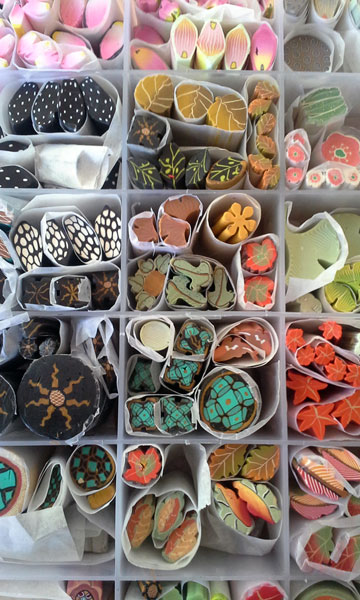 I first met Mari at a retreat and marveled at her talent with so many mediums. Her Idea books are to die for and what's she is doing with polymer clay and the extruder is incredible.
This from Mari's website;
"A teacher with thirty years experience, I became addicted to polymer clay in the late 1980's when I needed an inexpensive way to teach a jewelry design unit to my at-risk high school students. I was hooked! Over the years, I have had the occasion to teach at guild retreats, two Ravensdale Conferences and other venues both in the U.S. and abroad. I have designed tools and have made instructional DVDs for the Artway at Polymer Clay Express. These include: Boxes, Bangles, &Beautiful Beads, Marriage of Materials, and Triple Treat. My fascination with their wonderful extrusion tool has led to the design of detailed discs and development of the patterned plug extrusion technique."
Mari is coming to visit me and teach a two day workshop at Studio 215 on March 28th and 29th 2015. I'm thrilled.
Here's what Mari has to say about this inspiring workshop
  "I will jump-start the folks who have never or seldom used this wonderful tool.
    I will introduce my technique for saving your hands. How to adapt all kinds of disks for use with the A.C.E. and P.C.E. extruders (my extruder of choice, although we will also work with other extruders) Other bits and bobs I use with my extruder.
Participants will create petal support stands , paddle accents and use a blossom cheat sheet to form the earring form.
We will create two patterned plugs for extrusion. Various disk designs will be available for use in class.
Participants should expect to complete one set of earrings of each design during the workshop.
This workshop just touches on all the wonderful things the extruder can do…you are only limited by your imagination."
Samples of these earrings were featured August 25, 2014 on Polymer Clay Daily"
See more of Mari's work on her Facebook page and on her web site www.mari-odell.com
——–
Mari O'Dell lives in Annapolis, Maryland with her sax-playing poet husband, mellow black lab, Sachi and silver -Tabby kitten,Marlowe. Avoiding housework by lots of studio time and gardening. Mari has been a long time studio artist, teacher, author and innovator. In the later role she has expanded the use of the extruder in ways no one else has. She has designed detailed disks for the Artway extruder and developed the patterned plug extrusion technique. Her design work extends to impression plates, silk screen designs and mixed media tools.
To sign up for this inspiring workshop, download an application form, Extruder Bootcamp with Mari O'Dell
Plus… Don't miss Meisha Barbee at Studio 215 on  Feb. 21 & 22, 2015. Download her application form  Mica Shift with Appliqué' Pendant