"If I had a world of my own, everything would be nonsense. Nothing would be what it is, because everything would be what it isn't. And contrary wise, what is, it wouldn't be. And what it wouldn't be, it would. You see?"  Lewis Carroll, Alice's Adventures in Wonderland & Through the Looking-Glass
As you can see I've been working on Alice herself and here she is with the Mad Hatter. You'll notice that I've moved the hatter and here's why.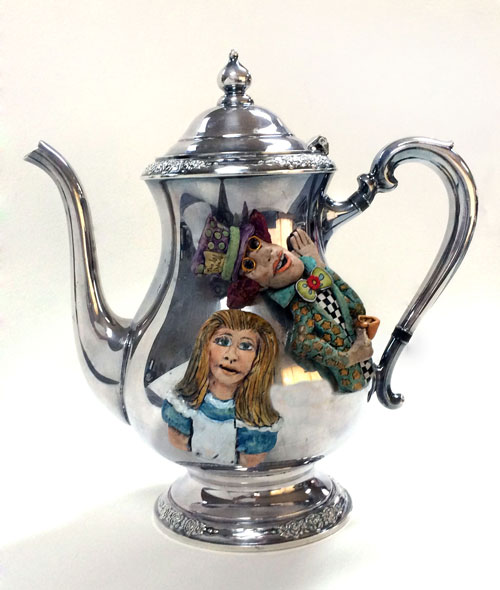 The other night after my post here and on Facebook, Ellen Prophater call me to share her thoughts on how to adhere my figures to the silver teapot. Thanks so much Ellen it's nice to have a friend looking out for you.  She suggested I use Genesis Artist Colors Thick Medium-Extender. She uses it all the time and with great success.
Oh course I have some, I bought it from her, naturally.  Elleen and Sue Sutherland own Creative Journey Studio and carry almost everything you might want or need for claying. I've actually used it once or twice but didn't really like the consistency of it and put it aside.  But to be fair I didn't use it long enough to really judge but it's hard to spread.
And she's right, super glue was not a good choice for this project so I popped the Hatter off the teapot and reattached him using Genesis, it  worked very well. At least the bond is strong and solid.
Now you're going to laugh, I had to tie the Hatter to the pot.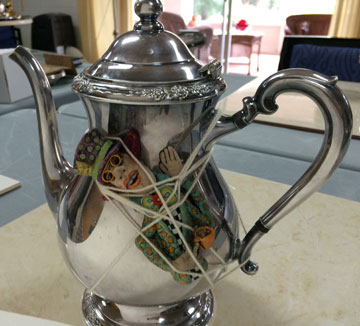 I told you that you were going to laugh.
Because of the dip in the teapot the Mad Hatter just didn't want to stay in place. With Genesis on his back he just slid all around. It's a problem I have with any liquid clay and with Genesis obviously.
Because he was already baked and solid I could tie him down, obviously this wouldn't work with uncured clay. That leads me back to my post from yesterday where I talked about sculpting the Hatter about three weeks ago and he wasn't very pliable, he was hard to fit to the shape of the tea pot.
Oh and I decided to move him to the right side of the teapot and like him there better so it all worked out.
Yesterday I sculpted Alice and placed her on the teapot right away while she was still soft. She stuck pretty well and didn't move around when I baked her. I didn't use the Genesis on Alice before baking because it's thick and hard to spread, I didn't want to mess up my sculpting efforts by push to hard.
She's stuck to the teapot pretty well without anything but just the same I'll pop her off and use Genesis before I bake the teapot again.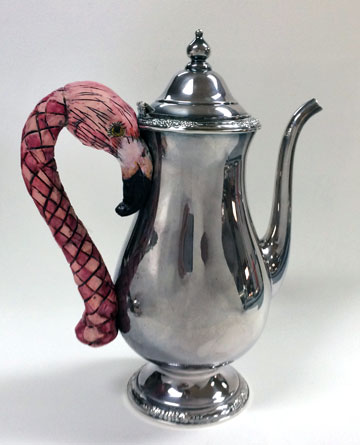 The flamingo makes me smile, being from Florida the flamingo is a favorite Alice Character of mine, not that there are any in my part of the state! Sandhill cranes yes, Flamingos no.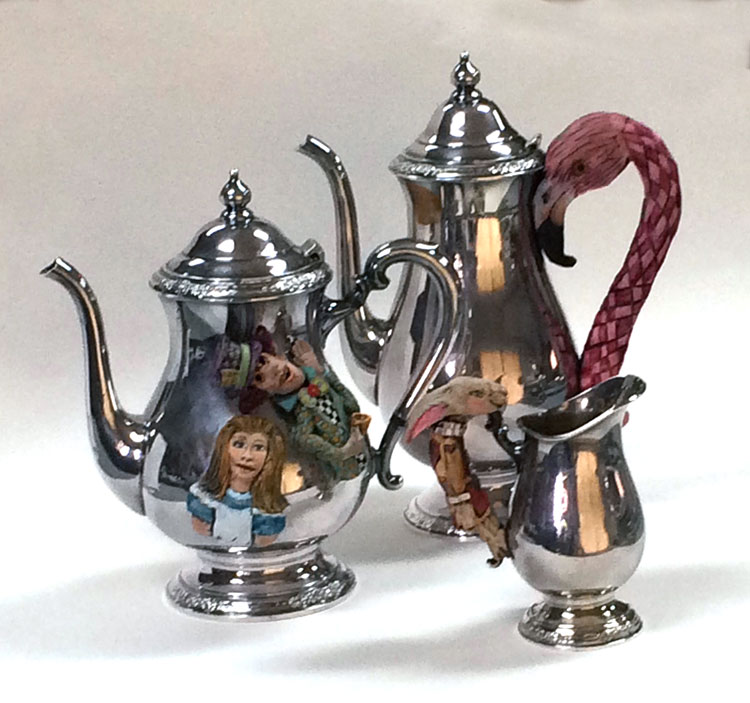 Here's how the set is shaping up and you know that by the time I'm finish, I'll have to add a few Alice crazy flowers. Thanks for following along.
Related articles across the web