When I was in Denver last month with Artybecca, we stopped by Marie Gibbons' evb studio early in the morning on our way into town from our two day stay with Ann Kruglak in her absolutely gorgeous home in Boulder.   Marie wasn't there, it was still early, but after a quick phone call, she invited us back the next night to visit with her Mud Club women. What a fun group and what a great idea. They meet regularly and get to enjoy each others company while expressing themselves in clay. You gotta love it.
We wanted to get a picture of her fabulous window. She always has something inventive and so cool in her window, not only her work but other simple, time consuming, but simply spectacular ideas for her windows. You should see what she's doing with cardboard toilet paper rolls.
Isn't this the greatest picture? Thanks Rebecca for the picture and being a great traveling buddy. I think I might have to frame this one, it's so artistic. The picture above you guys….. not the one of me below.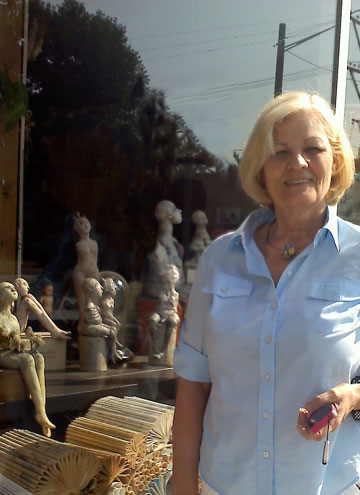 Rebecca got this picture of me in front of the window but we both failed to take a picture that night. I do that all the time, get too busy talking and looking that I don't take pictures.
I did get to buy this head rattle from Marie while we were there. I think it's so funny and enjoy him laying around on my desk.
Here's a picture from last year when Meisha and I stopped in to visit in 2011, it's turning into an annual thing.  I am thinking about a class with Marie when I go to Denver next year. If you're ever in Denver, you should stop by the studio and enjoy.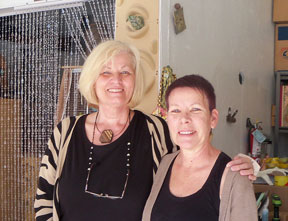 I'll be on the road again and teaching in Jordan, MN at Maureen Carlson's Center For Creative Arts. If you're close by, come on a take a class, we always have fun. Give Maureen a call at 952-492-3260