The Polymer Arts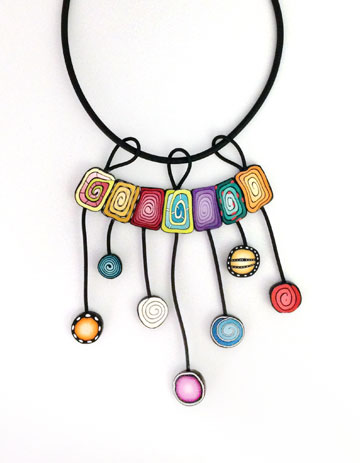 My Circles and Squares necklace was featured yesterday by Sage Bray on The Polymer Arts blog. I do enjoy this piece very much and always have one or two people tell me how fun it is! When I'm told that my work makes people smile of makes them happy, I consider my job accomplish!
I'm always so excited to see my work featured in The Polymer Art magazine or blog, I appreciate the fine work that Sage is doing for our polymer clay community and feel privileged to included with the vast array of talented artists working in polymer clay. Thank you Sage.
——————————————————————
West Coast Polymer Clay Guild
No picture here! I can not believe that I spent the whole day with this lovely, funny group and didn't take one picture. I blame the guild member actually, I asked them to remind me and to not leave without a group picture. But every single one of them forgot to remind me.

I really apologize ladies, it was my fault after all. Next time I won't forget.
All of us at this workshop want to send a giant thank you to Polyform's Education Manager Iris Weiss and Polyform Products for supplying all the clay and then some.
We had a really great time though, what a talented group of women. I hope to get back to New Port Richey again soon.
—————————————————————
Art Deco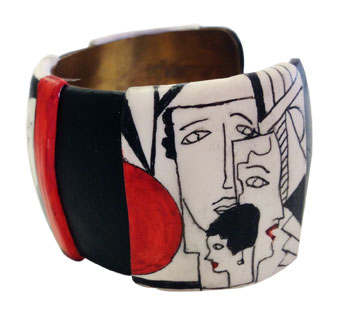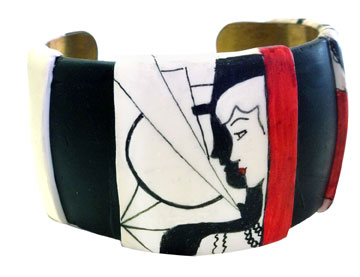 I've been drawn to Art Deco all my life. Maybe it was visiting Miami when I was a kid and seeing all those fabulous art deco buildings, or just the clean lines of the jewelry or the advertisements and art work created in that style. I think it might be the romanic vision of the '20s that draws me in. Such large changes taking place in clothing, hair styles, woman's rights…the world was changing dramatically.
Right now I'm working on this bracelet using my pen and ink technique. I wanted something new with pen and ink to take to the Orlando Area Polymer Clay Guild when I teach there next week. Working on slides in this style as well.
Having a ball actually, one more panel on this one and I'm finished.