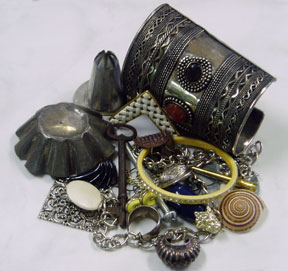 Several days ago, I promised you a video showing how to use objects you might have around the house to imprint polymer clay projects. Or you may want to use that interesting found object to embellish one of your creations.
I "found" all of these items while I was clean out and cleaning up. You might say I "re-found" them. Most are things I have collected over the years because they were interesting and I just knew one day I'd "make something from them". ( I think there is a name for this illness……..most of you have it too I think!)  Some are just everyday items.
Even my husbands work space didn't escape the scavenger hunt……don't tell him though, he gets scared when I venture into his garage with that look on my face.
Today, I'm working on samples and tomorrow or the next day I'll post the video. Start looking around you, I know you'll find lots of things to play with. Roll out some fresh clay and experiment. Or be ready with your treasures for when you watch my new video and we can experiment together.
Just remember, if you use something from your kitchen for clay, you won't want to use it again for food.