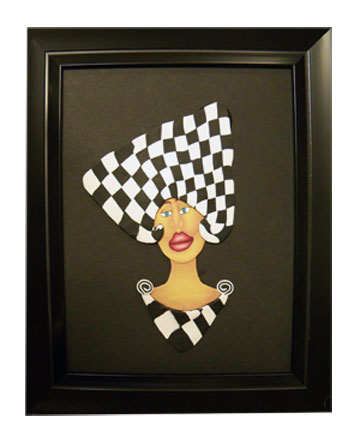 I was working on some Alice in Wonderland prototype pieces for a client and was incorporating black and white checks. I had this piece left over and as is my M.O. I couldn't let it go to waste and made this funky hat for one of my girls.
So I call her Alice, maybe in wonderland, maybe just what I feel I look like sometimes. I've mounted her on a piece of black foam core and framed her. She is actually quite large, about 4″ x 7″.
Up she'll go on my wall, and after I look at her awhile, I'll decide if I want to sell her. I've been thinking of doing a family series. Framed portrait of woman like Alice that you could claim as you sister or Mother or great Aunt…well Great Aunt Alice.
A collection! That's it! lol I am having way too much fun….I think my samples are cured, back to play, er……… I mean work.
____________________________


If you're looking for my OWOH giveaway it's here